1 July 2016 – SOLAS – container weight verification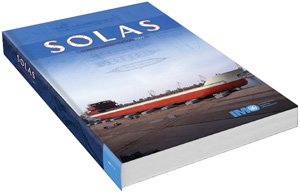 Amendments to SOLAS chapter VI to require mandatory verification of the gross mass of containers, either by weighing the packed container; or weighing all packages and cargo items, using a certified method approved by the competent authority of the State in which packing of the container was completed.
1 July 2016 – SOLAS -atmosphere testing
Amendments to add a new SOLAS regulation XI-1/7 on Atmosphere testing instrument for enclosed spaces, to require ships to carry an appropriate portable atmosphere testing instrument or instruments, capable of measuring concentrations of oxygen, flammable gases or vapors, hydrogen sulphide and carbon monoxide, prior to entry into enclosed spaces. Consequential amendments to the Code for the Construction and Equipment of Mobile Offshore Drilling Units (1979, 1989 and 2009 MODU Codes) were also adopted. The MSC also approved a related MSC Circular on Early implementation of SOLAS regulation XI-1/7 on Atmosphere testing instrument for enclosed spaces.
1 January 2017 – Polar Code
The International Code for Ships Operating in Polar Waters (Polar Code)and related amendments to make it mandatory under both SOLAS and MARPOL enter into force. The Polar Code will apply to new ships constructed after 1 January 2017. Ships constructed before 1 January 2017 will be required to meet the relevant requirements of the Polar Code by the first intermediate or renewal survey, whichever occurs first, after 1 January 2018
1 January 2017 – MARPOL Annex I – oil residues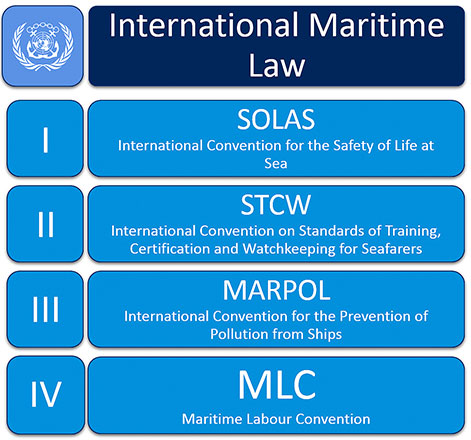 Amendments to regulation 12 of MARPOL Annex I, concerning tanks for oil residues (sludge). The amendments update and revise the regulation, expanding on the requirements for discharge connections and piping to ensure oil residues are properly disposed of.
1 January 2017 – SOLAS – IGF Code
International Code of Safety for Ships using Gases or other Low-flash point Fuels (IGF Code), along with amendments to make the Code mandatory under SOLAS enter into force. The amendments to SOLAS chapter II-1 (Construction – Structure, subdivision and stability, machinery and electrical installations), include amendments to Part F Alternative design and arrangements, to provide a methodology for alternative design and arrangements for machinery, electrical installations and low flash point fuel storage and distribution systems; and a new Part G Ships using low-flash point fuels, to add new regulations to require ships constructed after the expected date of entry into force of 1 January 2017 to comply with the requirements of the IGF Code, together with related amendments to chapter II-2 and Appendix (Certificates). The IGF Code contains mandatory provisions for the arrangement, installation, control and monitoring of machinery, equipment and systems using low-flash point fuels, focusing initially on LNG. The Code addresses all areas that need special consideration for the usage of low-flash point fuels, taking a goal-based approach, with goals and functional requirements specified for each section forming the basis for the design, construction and operation of ships using this type of fuel. Amendments to the International Convention on Standards of Training, Certification and Watch keeping for Seafarers (STCW), and STCW Code, to include new mandatory minimum requirements for the training and qualifications of masters, officers, ratings and other personnel on ships subject to the IGF Code, also enter into force on 1 January 2017.
1 January 2017 – SOLAS – venting
Amendments to SOLAS regulations II-2/4.5 and II-2/11.6, clarifying the provisions related to the secondary means of venting cargo tanks in order to ensure adequate safety against over- and under-pressure in the event of a cargo tank isolation valve being damaged or inadvertently closed, and SOLAS regulation II-2/20 relating to performance of ventilation systems.
1 January 2017 – STCW Manila amendments transitional provisions end
From 1 January 2017, STCW certificates must be issued, renewed and re-validated in accordance with the provisions of the 2010 Manila Amendments.
1 September 2017 – MARPOL amendments sewage special area, NOx tier III reporting
MARPOL amendments adopted in April 2016 (MEPC 69) enter into force: amendments to MARPOL Annex IV relating to the dates for implementation of the discharge requirements for passenger ships while in a special area, i.e. not before 1 June 2019 for new passenger ships and not before 1 June 2021 for existing passenger ships; • amendments to MARPOL Annex II, appendix I, related to the revised GESAMP hazard evaluation procedure; • amendments to MARPOL Annex VI regarding record requirements for operational compliance with NOX Tier III emission control areas; amendments to the NOX Technical Code 2008 to facilitate the testing of gas-fueled engines and dual fuel engines.
1 January 2018 – Revised FAL Convention
The revised Annex to annex to the Convention on Facilitation of International Maritime Traffic (FAL) includes mandatory requirements for the electronic exchange of information on cargo, crew and passengers