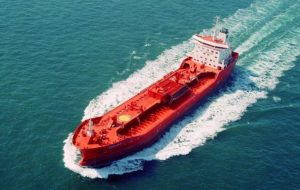 Norwegian shipping company Rederiet Stenersen AS has selected Corvus Energy's Orca lithium ion based energy storage system (ESS) for its first hybrid chemical tanker.
The 17,500 dwt IMO class II chemical tanker will be the first vessel of its kind to utilize an ESS for propulsion, which will integrate with WE Tech Solutions' propulsion system into the vessel.
According to data provided by VesselsValue, the company has four chemical tankers currently under construction at the Chinese Taizhou Kouan Shipbuilding.
Featuring a length of 146 meters abnd a width of 22.5 meters, the new vessels are scheduled for delivery in 2018.
The hybrid chemical newbuildings will join the company's fleet of 16 purpose built chemical/product carriers ranging from 13-19,000 dwt, all of which are deployed in North West European trade.
"Utilizing the ESS solution for the hybrid power and propulsion systems will allow for running fewer diesel generators for certain operations – improving efficiency, reducing the exhaust emissions and lowering noise levels, making it the most environmentally friendly chemical tanker ship in the Rederiet Stenersen fleet," Corvus Energy said.