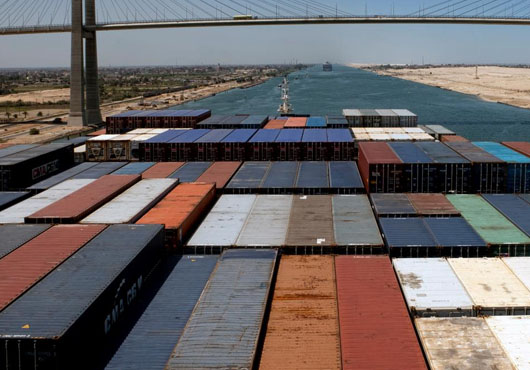 The passage of ships through the Suez Canal has not been affected by the ongoing military clashes in Yemen, according to a Suez Canal Authority (SCA) official.
"Since the military operation in Yemen was launched last week, revenues from the Suez Canal, along with marine traffic, has been normal compared to the same period last year," Mahmoud Rizk, director of the department of planning at SCA was quoted by Egyptian daily newspaper Al Ahram.
The statement was made during a tour of Arab media representatives of the New Suez Canal project on Wednesday.
Head of SCA, Mohab Mamish said on Saturday, April 4th, that preparations are underway for the inauguration ceremony of the New Suez Canal.
Mamish said the dredging works at the new waterway project will be finalized before the deadline.
He made it clear that the Suez Canal Authority will be responsible for running the Suez Canal Corridor Development project until a new body is formed.
The expansion project will pave the way for transit of ships of up to 66 feet in draft, thus increasing the revenue of the canal to up to $17 billion a year.
Launching of air strikes by Saudi Arabia on Houthi militias' positions on March 25th has raised concerns of the shipping industry about the safety of important trade routes in the area, in particular of the Bab al-Mandeb Strait.
Speaking at a recent meeting of the Supreme Council of the Armed Forces (SCAF), Egypt's President Abdel Fattah El Sisi said that navigation in the Red Sea and protecting Bab Al-Mandeb are a top priority for the Egyptian national security.
Yemen's Port of Aden was last reported to be virtually closed except for some oil shipments at Aden Refinery, according to GAC's update.
Houthi rebels advanced further into the port city of Aden, despite the Saudi air strikes, according to the latest media reports.