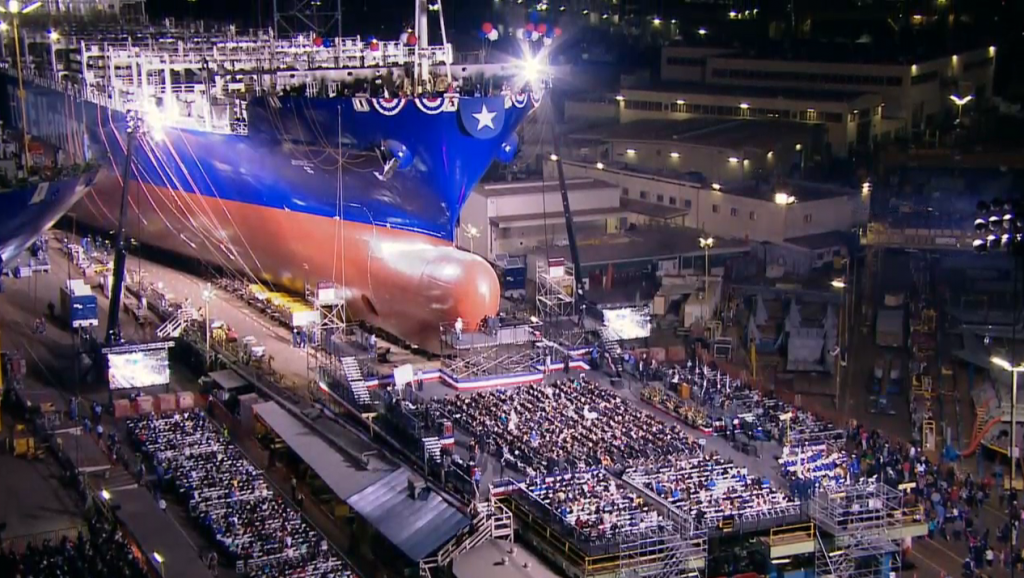 The US shipbuilder General Dynamics NASSCO christened and launched the world's first container ship powered by liquefied natural gas (LNG) at its shipyard in San Diego on April 18.
Part of a two-ship contract signed in 2012 with TOTE, the 764-foot long Marlin-class container ship is the largest dry cargo ship of any kind in the world powered by LNG.
The Isla Bella is also equipped with a ballast water treatment system, making it the greenest ship of its size, according to NASSCO.
The Jones Act-qualified Isla Bella will operate between Jacksonville, Florida and San Juan, Puerto Rico.
Yesterday's ceremony also marked NASSCO's 100th ship launch.
In a nighttime ceremony attended by around 3,400 shipyard workers and guests, the 3,100 TEU Isla Bella, built for the US transport and logistics company TOTE Inc., officially took to water at the San Diego Bay, accompanied by a fireworks display.
The ship's sponsor, Sophie Sacco—wife of Michael Sacco, president of the Seafarers International Union of North America, christened the ship with a traditional champagne bottle break over the ship's hull.
The name of the ship was revealed during the ceremony.
The Marlins, which will home port in Jacksonville, Florida, will enter service in late 2015 and early 2016 replacing 1970-built ships operating in the Puerto Rico trade.
The ships feature 3,100 in TEU and are expected to create a reduction of sulfur dioxide (SOx) emissions by 98 percent, particulate matter (PM) by 99 percent, nitrous oxide (NOx) and carbon dioxide (CO2) by 71 percent over TOTE'scurrent ships on the route.
The design has been provided by DSEC, a subsidiary of Daewoo Shipbuilding & Marine Engineering (DSME), located in Busan, South Korea. It includes DSME's patented LNG fuel-gas system and the world's first order of a MAN ME-GI dual fuel slow speed engine.
Both ships surpass the requirements of the U.S. Environmental Protection Agency's clean air regulations.
TOTE has signed a long-term agreement with Pivotal LNG and WesPac Midstream to LNG to fuel its two new containerships.
When completed the 764-foot-long containerships are expected to be the largest ships of any type in the world primarily powered by LNG.
The total capital committed to the project is over $350 million.