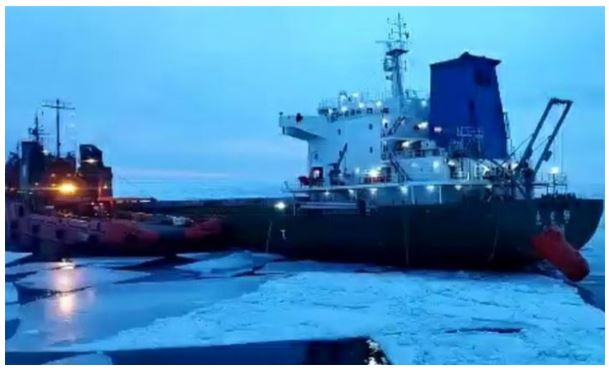 Mar 1 UPDATE: YONG XING 56 sank on Mar 1, salvors failed to salvage the ship, and she sank at at 253 meter depth. Understood salvors took ship out of ice zone trying to ease access to breach, but how did towage contribute to sinking? There is no heavy swell seen in these last photos photos of hapless bulk carrier. According to official report, YONG XING 56 sank at 0535 Moscow time, breach wasn't sealed, pumping water out of flooded compartments also failed.
Feb 27 UPDATE: As it transpired, the ship is loaded with alumina, forepeak is holed and most probably, fore cargo hold also. YONG XING 56 developed heavy fore tilt, she's stuck in ice and drifts with ice floes. Salvors are trying to seal the breach, salvage outcome still indecisive.
Feb 24 UPDATE: Reportedly bulk carrier hull was breached by ice, YONG XING 56 and other ships in the area aren't anchored therefore, but drift in ice floes, waiting for icebreaker.
Bulk carrier YONG XING 56 issued distress signal in the evening Feb 23, at anchorage in Tatar Strait south of Vanino, ship's port of destination. Ferry SAKHALIN-8 and rescued 21 crew, all-Chinese. They're to be disembarked at Vanino. Bulk carrier reportedly suffered hull breach starboard, in Hold 1 area, with ensuing mass water ingress. Judging from track screen, the ship looked like she drifted onto anchored general cargo ship VIKTORIYA (IMO 9004516). Ship's AIS seems to be working, SAR ship OTTO SCHMIDT is under way to assist troubled bulk carrier. YONG XING 56 arrived at anchorage on Feb 19, she was to load coal at Vanino.